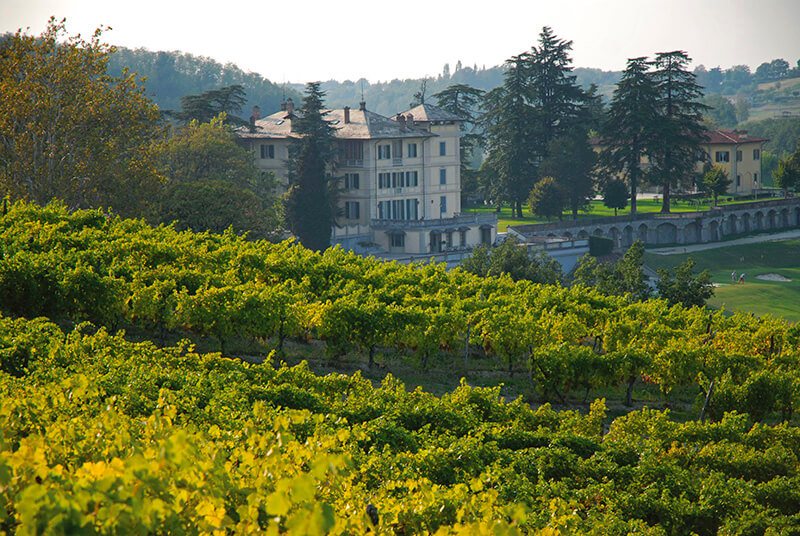 La Bollina Winery, in Serravalle Scrivia, AL, Italy, is a municipality in the province of Alessandria in the Italian Piedmont region, about 62 miles southeast of Turin and about 16 miles southeast of Alessandria.
This historical territory, which specializes in Gavi, was the residence of the Marchioness Figari of Genova for centuries and now extended to 120 hectares of landscape, a nineteenth-century art nouveau villa converted into a luxury hotel, a great golf course, and vast chestnut woods.
There is 28 ha of cultivated vineyards, mainly planted with Cortese, the native grape of the territory. Other cultivated varieties are Chardonnay, Nebbiolo, and Barbera. In addition to the wine cellar, La Bollina offers Villa Bollina luxury accommodations for guests:
An "Art Nouveau" style villa.
A modern 4-star hotel.
A 9-hole golf course that expands throughout the vineyards.
The Bollina winery is completely renovated and has some of the most advanced techniques, systems, and instruments in modern winemaking.
The productive choice of the winery La Bollina is focused on producing high-quality wines that can express the peculiarities and charm of the terroir. Labels are easily recognizable by the images of bicycles and cycles that constitute both a symbol of rebirth that land a tribute to two great cyclists originating in the hills between Piedmont and Liguria: Costante Girardengo and Fausto Coppi.