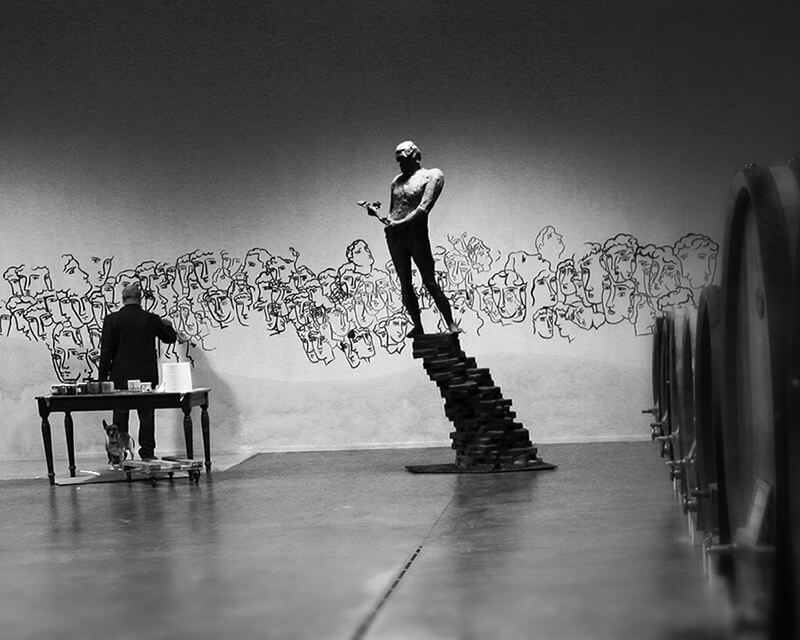 The magnificent fortress that is Castello Romitorio sits high on the hillside above the village of Montalcino, surrounded by vineyard land and forest. Once abandoned, the resurgence of this great Roman fort occurred in 1984, when famous artist Sandro Chia made the old manor his home and art studio. As well as the Castle, Chia took over the vineyards, holm oak woods, and heathland. The objective was immediately apparent – Romitorio could only shine once more if after renovation of the Castle, its ancient affinity with winegrowing was also revived.
Castello Romitorio inaugurated its new cellar in 2005. The 14th-century manor was adorned with the works of Sandro Chia, designed to blend the avant-garde with a thousand years of history and antiquity. In the same year, Sandro's son, Filippo Chia, joined the company and started a process of profound renewal of the wines and winemaking style, betting on extremely elegant single-varietal Sangiovese to embody the characteristics of the terroir.
Filippo is committed to tradition and the pursuit of excellence through classic style and innovation – the perfect balance of new and old-world integration into his wine-making. The most demanding challenge is measuring up to an extraordinary area and continuing to offer consistently high-quality wines that express their origin. The stunning artwork which makes up the labels for Castello Romitorio's wines is that of Sandro Chia's, a fitting tribute to the man who brought life back to this land.