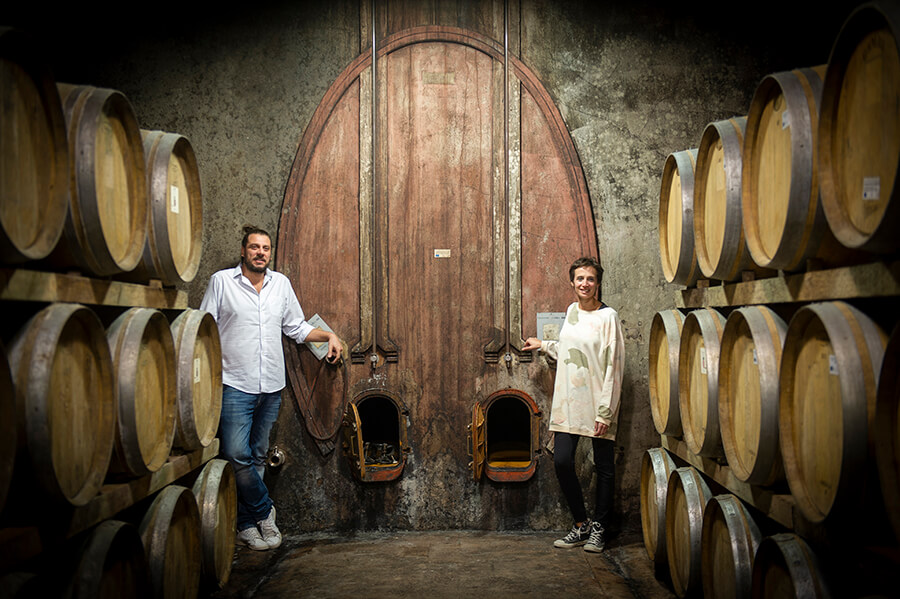 Founded in 1884, the Scacciadiavoli (from scacciare – to banish, and diavoli – devils) winery takes its name from an exorcist who lived in a town at the borders of the property and used the wine for his rituals.
In Umbria, known as the "Green Heart" of Italy, Scacciadiavoli lies on the Montefalco hill, with a vertical building on four levels, one below ground; all the production takes place by gravity-flow.
Although the winery never stopped production, in 2000, extensive renovations began. The original building wasn't modified, and all the historical architectural structures were preserved while introducing new technologies and modern machinery. The Pambuffetti brothers, who had taken over the winery that year, did this. As a result, the estate is the oldest of its kind in the area.
The property includes an area of 130 hectares, 40 of which are dedicated to grapevines; current annual production is around 250,000 bottles. The vines, at an average altitude of 400m above sea level, are situated on sandy-clay soil of medium-depth, highly suited for quality growth of late vine varieties, such as Sagrantino.
The vines occupy various hillsides in Montefalco, Gualdo Cattaneo, and Giano dell'Umbria. The wines produced are Montefalco Sagrantino DOCG secco e passito, Montefalco Rosso DOC, Montefalco Bianco DOC, and
Montefalco Grechetto DOC, Spumante Brut Metodo Classico Bianco and Rosè from Sagrantino grapes. In addition, the company recently unveiled the production Trebbiano Spoletino.